include "/var/www/banner.php"; ?>
| | |
| --- | --- |
| | news |
---
CHOSNECK INTRO [ 10.03.04 ]
---
Are you Sitting Comfortably? F030 intro for Chosneck 2/4th.
---
PDA-viewable? Yes! [ 06.02.04 ]
---
Welcome to our small PDA viewable website! There are no links included on this site, but you can view all our hottest news. Everything is reworked for best view on PDAs with 320x320 (or higher) resolutions.

Enjoy!
---
Error In Line #3 [ 22.04.03 ]
---
We have just returned from this amazing party.

You can find pictures from the event, demos, music and gfx available for download here

Big thanks to the organisers for making such a special event.
---
SantaFly Online Scores [ 06.01.03 ]
---
High Scores for SantaFly are now online!

To compete in this competition, send your SANTAFLY.SAV file to pink@reservoir-gods.com

You can view the online charts here.
---
SantaFly Released [ 25.12.02 ]
---
We've made a special festive version of SuperFly to bring some Christmas fun to the atari scene :D

Christmas has been stolen, and it's your job to rescue it. You have only a single button at your disposal - use it wisely!

Download:
SantaFly HD Version&nbsp[ Atari ST/E/TT/Falcon (2MB) ]

SantaFly Floppy Version&nbsp[ Atari ST/E (1MB) ]

---
SuperFly SuperScores [ 21.12.02 ]
---
High Scores for SuperFly are now online!

To compete in this competition, send your SUPERFLY.SAV file to pink@reservoir-gods.com

You can view the online charts here.
---
SuperFly Launches [ 13.12.02 ]
---
The latest game from Reservoir Gods is ready for take off!

"SuperFly" is a fast paced horizontally scrolling action game, with all the extras you expect from an RG production.

Featuring 4 game modes, 5 game worlds and 9 new SID tunes from MSG, there is a whole lot to unlock and explore. The game begins as a simple arcade experience, but more game elements appear with each stage.

The game also features another epic story mode, multiple high scores and saveable replays. Please send all your higscores to pink@reservoir-gods.com for an online highscore table.

Think of it as an early Christmas present from your friends at RG :)

Download.
---
Damo Joins RG [ 09.06.02 ]
---
Another new guy joins the Reservoir Gods team.

Damo is a coder and musician from Brighton, UK. We first teamed up with him at an RG party many years ago, and since then he went on to work on the BinLiner project.

He is already working on coding some effects for us, and no doubt will also be knocking out a tune or two. Hold tight!
Stratagem Joins RG [ 09.06.02 ]
---
We are proud to anounce that Stratagem has joined Reservoir Gods.

Stratagem has a long history with Ataris, buying his first ST way back in 1985.

He has been involved with many scene crews over the years, most famously he was the leader of compilation crew Animal Mine.

Stratagem worked with us on the latter stages of development on GodPey, and did a great job ensuring that the game ran on a wide variety of hardware.

Welcome aboard Stratagem!
GodPey Released! [ 26.05.02 ]
---
GodPey is an arcade puzzle game for one or two players. It's a conversion of the popular Bandai Wonderswan title "GunPey"

There are a multitude of game modes, extra features and secrets including a multiplayer head to head battle mode and an epic story mode.

We started work on this at the EIL2 party - it's been a bit of an epic, but it really is packed with features.

Play and enjoy!

Download.




Chu Chu Rocket voted Game Of The Year [ 13.04.02 ]
---
Our conversion of Sonic Team's DreamCast game "Chu Chu Rocket" has been voted Game Of The Year by readers of MyAtari.

Thanks to everyone who voted for us! Much appreciated.




New ST/Falcon Game [ 11.04.02 ]
---
"Double Juggle Vegetabobble : This Is Vegetable Juggling 2002" is a game and watch conversion for the ST/STE/TT/Falcon.

It was coded in just 24 hours during the RG Kitchen convention.

Grab a copy here.




Aegir Joins RG [ 09.04.02 ]
---
Reservoir Gods have a new assembly language coder: 'Aegir'.

We were in contact with 'Aegir' when he was coding small ST intros back in the early 90s. When members of RG bought Falcons, he bought a PC and we lost touch.

A few months ago, we re-established contact with Aegir and got him enthusiastic about Atari again - so much so that he has just bought a Falcon!

Some words from Aegir:

"I am just pleased to be back in touch with some old friends and doing programming again for fun, instead of work.

Also, it gives me a chance to try and create all those coding effects that I couldn't do back in the early 90's when I left the ST scene.

I am currently running lots of the old demos, such as Syntax Terror, running in the background. Just trying to catch up on what I missed. And all the best stuff that I used to like.

I want an Atari baseball cap! Where can I get one?"

Look out for some Aegir coded intros on future RG productions, and if you know where he can get a baseball cap, drop us a line!




RG Easter Party [ 07.04.02 ]
---
From Friday 29th March to Monday 1st April, we held a small party at sh3's place in Bolton.

Attending this event were Mr Pink, MSG and sh3 and we spent the majority of the time in front of our computers working on new games for the ST and Falcon.

A lot of work was done on our forthcoming Bandai Wonderswan conversion "GodPey", and on the Sunday night we began work on a 24 hour game, confusing title "Double Juggle Vegetabobble : This Is Vegetable Juggling 2002." It's a small, simple but fun little game. Gotta catch them balls!




Big Site Update [ 10.03.02 ]
---
After problems with Zetnet, this site has moved onto the atari.org servers.

This means that we a lot more webspace, and the freedom to finally include all our productions on this page.

The design of the site has had an overhaul, but we've always kept in mind CAB users running things on low memory machines.

The emulators section finally includes all our GodBoy and GodleNES releases for download.

The games section now has downloadable versions of all our Falcon and ST games.

There is now a big Maggie shrine, with information about the contents of each issue as well as downloadable ST and Falcon versions of each release.




STFM and TT conversion of Chu Chu completed [ 16.02.02 ]
---
We have coded a new set of generic libraries that allow Chu Chu Rocket to run on both the Atari STFM and Atari TT.

If the game detects the extra hardware features of an STE or Falcon it will use this, but it still runs great on the good old STFM!




Chu Chu Rocket Released [ 07.11.01 ]
---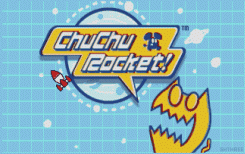 Our conversion of Sonic Team's classic Dreamcast arcade puzzler hits the STe and Falcon.

With 150 levels of action, multiple game modes, stereo sampled sound, 13 new Sid Chip tunes, multiplayer competitive and co-operative games, jaguar pad and team tap support and many secrets to unlock, this is a must for all Atari gamers.




---