---
OULINE 2004
[17.02.2004]
---
The whole RG-Team (Mr. Pink, Sh3, Damo, MSG, Stratagem) will attend on OUTLINE 2004 Party which is taking place in Lievelde, Netherlands. The invitation file can be found here.
---
PDA-viewable? Yes!
[06.02.2004]
---
Welcome to our small PDA viewable website! There are no links included on this site, but you can view all our hottest news. Everything is reworked for best view on PDAs with 320x320 (or higher) resolutions. Enjoy!
---
X-MAS
[24.12.2003]
---
The whole Reservoir Gods - Team wishes you a merry x-mas and a happy new year! And if you're wondering why you got no gifts this x-mas, WE KNOW the reason! You don't? Take a look here... ;-)
Cya next year... and -YES- we're working on something new for you guys...
---
Error In Line #3
[22.04.2003]
---
We have just returned from this amazing party. You can find pictures from the event, demos, music and gfx available for download at http://eil3.reservoir-gods.com. Big thanks to the organisers for making such a special event.
---
SantaFly Online Scores
[06.01.2003]
---
High Scores for SantaFly are now online! To compete in this competition, send your SANTAFLY.SAV file to pink@reservoir-gods.com.
---
SantaFly Released
[25.12.2002]
---
We've made a special festive version of SuperFly to bring some Christmas fun to the atari scene :D
Christmas has been stolen, and it's your job to rescue it. You have only a single button at your disposal - use it wisely!
---
SuperFly SuperScores
[21.12.2002]
---
High Scores for SuperFly are now online! To compete in this competition, send your SUPERFLY.SAV file to pink@reservoir-gods.com.
---
SuperFly Launches
[13.12.2002]
---
The latest game from Reservoir Gods is ready for take off!

"SuperFly" is a fast paced horizontally scrolling action game, with all the extras you expect from an RG production. Featuring 4 game modes, 5 game worlds and 9 new SID tunes from MSG, there is a whole lot to unlock and explore. The game begins as a simple arcade experience, but more game elements appear with each stage. The game also features another epic story mode, multiple high scores and saveable replays. Please send all your higscores to pink@reservoir-gods.com for an online highscore table. Think of it as an early Christmas present from your friends at RG :)
---
Damo Joins RG
[28.10.2002]
---
We are pleased to welcome a new member to the Reservoir Gods Team. Damo is a UK based coder & musician who has been in the atari scene since 'back in the day'. He was a member of the BinLiner team and demo crew Redlite. He is coding some effects for us and also has some plans for some interesting applications.
---
Online GodPey HighScores
[19.06.2002]
---
We have created an online rankings system for our latest game GodPey. Here you can see how you compare to other GodPey players around the world with comprehensive tables for every single gamemode. Please mail your GODPEY.SAV files to pink@reservoir-gods.com for inclusion in these tables.
---
Reservoir-Gods.Com Launches
[18.06.2002]
---
Welcome to www.reservoir-gods.com, the new home of the Reservoir Gods! Yes, we've finally got our own .COM site just as the rest of the .com world crashes and burns ;-) We hope to bring a lot of exciting new content to this site, so keep checking back.
---
New Member Joins RG
[09.06.2002]
---
We are proud to anounce that we have a new addition to the Reservoir Gods group. Stratagem is the latest recruit to our Atari development team. He worked with us on the development of GodPey and will be a welcome addition to the team.

Welcome aboard Stratagem!
---
GodPey Released!
[26.05.2002]
---
GodPey is an arcade puzzle game for one or two players. It's a conversion of the popular Bandai Wonderswan title "GunPey". There are a multitude of game modes, extra features and secrets including a multiplayer head to head battle mode and an epic story mode. We started work on this at the EIL2 party - it's been a bit of an epic, but it really is packed with features. Play and enjoy!
---
Double Juggle Update
[05.05.2002]
---
We have just uploaded a new version of our popular 24 hour Vegetable Juggling game. This version now runs from Hard Drive on ST and also has enhanced audio.
---
Chu Chu Rocket voted
Game Of The Year
[13.04.2002]
---
Our conversion of Sonic Team's DreamCast game Chu Chu Rocket has been voted Game Of The Year by readers of MyAtari. Thanks to everyone who voted for us!
---
---
Latest Release : SuperFly
---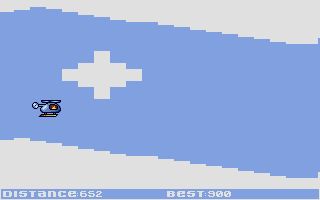 Sixty Frames per second of gaming goodness in this horizontally scrolling action game. With multiple game types including an epic story mode, 21 high score tables, a picture gallery and saveable replays, SuperFly will keep flying high for weeks.
---
---
Featured Classic : Sworm
---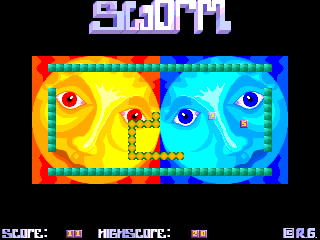 The RG "CwmVention" parties were always a hive of activity and midnight cartwheeling. Sworm was the produce of one of the 24hour game compos, competing against Tat's "Adder" and Arnel's still unfinished "Arrows". So its worms, but the unique twist is that you can play the game mapped onto a rotating 3D cube. Wiggly fun for worm lovers everywhere.